Welcome to the International Institute of Tropical Agriculture Research Repository
What would you like to view today?
Increasing cassava productivity in Nigeria: the commodity value chain development approach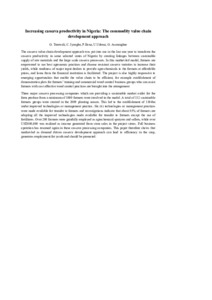 Date
2012
Author
Tarawali, G.
Iyangbe, C.
Ilona, P.
Udensi, U.
Asumugha, G.N.
Target Audience
Scientists
Abstract/Description
The cassava value chain development approach was put into use in the last one year to transform the cassava productivity in some selected states of Nigeria by creating linkages between sustainable supply of raw materials and the large scale cassava processors. In this market-led model, farmers are empowered to use best agronomic practices and disease resistant cassava varieties to increase their yields, while readiness of major input dealers to provide agro-chemicals to the farmers at affordable prices, and loans from the financial institution is facilitated. The project is also highly responsive to emerging opportunities that enable the value chain to be efficient, for example establishment of demonstration plots for farmers' training and commercial weed control business groups who can assist farmers with cost effective weed control practices are brought into the arrangement. Three major cassava processing companies which are providing a sustainable market outlet for the farm produce for a minimum of 1000 farmers were involved in the model. A total of 112 sustainable farmers groups were created in the 2009 planting season. This led to the establishment of 1304ha under improved technologies or management practice. Six (6) technologies or management practices were made available for transfer to farmers and investigations indicate that about 85% of farmers are adopting all the improved technologies made available for transfer to farmers except the use of fertilizers. Over 200 farmers were gainfully employed as agrochemical sprayers and sellers, while over USD100,000 was realized as income generated from stem sales in the project states. Full business operation has resumed again in these cassava processing companies. This paper therefore shows that market-led as demand driven cassava development approach can lead to efficiency in the crop, generates employment for youth and should be promoted.
IITA Subjects
Agrovoc Terms
Regions
Countries
Collections