Welcome to the International Institute of Tropical Agriculture Research Repository
What would you like to view today?
Livelihood enhancement from cassava enterprise: building experience from Benin Republic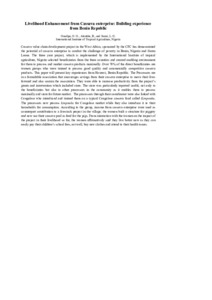 Date
2012-02
Author
Onadipe, O.O.
Sanni, L.O.
Alenkhe, E.B.
Ilona, P.
Target Audience
Scientists
Abstract/Description
Background: The impact of cassava value chain development has not just been to expand utilization of the crop but also to improve livelihood of the key players especially in the rural sector. This duo benefit is usually achieved through enhanced productivity and capacities of the key players involved. The Common Fund for Commodities (CFC) project focused on this people-oriented approach to improve livelihoods of rural farmers and processors in three selected countries in the West Africa. This is by agreeing to fund the three year intervention project, Cassava Value Chain Development in West Africa with the aim of creating enabling environment for key players in the rural sectors, thus increasing their productivity and enhancing their livelihoods. Objective:The overall objective of t he project on Common Fund for Commodities is the development of new market opportunities and supply lines for cassava farmers and small and medium scale processors in West Africa. This paper therefore focuses on the experience from Benin Republic.
IITA Subjects
Agrovoc Terms
Regions
Countries
Collections