Welcome to the International Institute of Tropical Agriculture Research Repository
What would you like to view today?
Cassava investment in Africa: taking inventory of initiatives in Africa in view of positioning cassava as a strategic commodity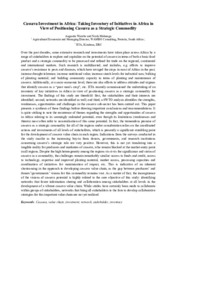 Date
2012-02
Author
Wambo, A.
Mahungu, N.M.
Kendenga, T.
O'Brien, E.
Target Audience
Scientists
Abstract/Description
Over the past decades, some extensive research and investments have taken place across Africa by a range of stakeholders to explore and capitalize on the potential of cassava in terms of both a basic food product and a strategic commodity to be processed and refined for trade on the regional, continental and international markets. Such research is multifaceted, and includes, e.g. efforts to improve cassava's resistance to pests and diseases, which have ravaged the crops in most of Africa in the past; increase drought tolerance; increase nutritional value; increase starch levels for industrial uses; bulking of planting material; and building community capacity in terms of planting and maintenance of cassava. Additionally, at a socio-economic level, there are also efforts to address attitudes and stigmas that identify cassava as a "poor man's crop", etc. The NEPAD Pan African Cassava Initiative (NPACI) through IITA recently commissioned the undertaking of an inventory of key initiatives in Africa in view of positioning cassava as a strategic commodity for investment. The findings of this study are threefold: first, the stakeholders and their interests are identified; second, networks are identified as well; and third, a SWOT analysis identifies the strengths, weaknesses, opportunities and challenges in the cassava sub-sector has been carried out. This paper presents a synthesis of these findings before drawing important conclusions and recommendations. It is quite striking to note the recurrence of themes regarding the strengths and opportunities of cassava in Africa relating to its seemingly unlimited potential, even though its limitations (weaknesses and threats) most often refer to non-realization of this same potential. In fact, the tremendous promise of cassava as a strategic commodity for all of the regions under consideration relies on the coordinated actions and investments of all levels of stakeholders, which is presently a significant stumbling point for the development of cassava value chain in each region. Indications from the surveys conducted in the study insofar as the increasing buy-in from donors, governments, and research institutions concerning cassava's strategic role are very positive. However, this is not yet translating into a tangible reality for producers and marketers of cassava, who remain blocked at the market-entry point in all regions. Despite the high heterogeneity among the regions vis-à-vis the significance and status of cassava as a commodity, the challenges remain remarkably similar: access to funds and credit, access to technology, expertise and improved planting material, market access, processing capacities and coordination of initiatives for maximization of impact, etc. This is indicative of an inherent shortcoming in the approach to developing cassava value chain, as the gap between producers' and donors'/governments' visions for this commodity remains vast.
IITA Subjects
Agrovoc Terms
Regions
Countries
Collections