Welcome to the International Institute of Tropical Agriculture Research Repository
What would you like to view today?
Progress in screening cassava genotypes for resistance to cassava brown streak Uganda virus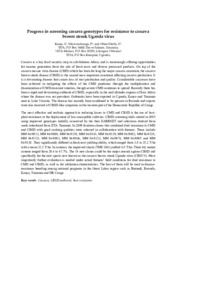 Date
2012-02
Author
Kanju, E.
Ntawuruhunga, Pheneas
Otim Okello, F.
Target Audience
Scientists
Abstract/Description
Cassava is a key food security crop in sub-Saharan Africa, and is increasingly offering opportunities for income generation from the sale of fresh roots, cuttings and diverse processed products. The total fresh root production is increasingly constrained, by the two principal biotic constraints; cassava mosaic disease (CMD) and cassava brown streak disease (CBSD). Considerable successes have been achieved in mitigating the effects of the CMD pandemic through the multiplication and dissemination of CMD-resistant varieties, but severe CMD continues to spread. In more recent years, there has been a rapid and devastating outbreak of CBSD, especially in the Great Lakes region where it was not prevalent. Outbreaks have been reported in parts of Uganda, Kenya, Rwanda and Tanzania near Lake Victoria, and reports were also received of CBSD-like symptoms in the western part of the Democratic Republic of Congo. Recent reports have confirmed that CBSD is comprised of two distinct species of viruses, Cassava brown streak virus (CBSV) and Cassava brown streak Uganda virus (CBSUV). The most effective and realistic approach to reducing losses to CMD and CBSD is the use of host-plant resistance or the deployment of lesssusceptible cultivars. Cassava trials were therefore, established in Uganda to screen cassava germplasm for resistance to CBSD from 2005/2006 to date. In 2009 fourteen clones that combined dual resistance to CMD and CBSD with good cooking qualities were selected in collaboration with farmers. The fourteen clones were: MM 06/0013, MM 06/0090, MM 06/0130, MM 06/0143, MM 06/0139, MM 06/0082, MM 06/0128, MM 06/0123, MM 06/0083, MM 06/0046, MM 06/0112, MM 06/0074, MM 06/0005 and MM 06/0138. They significantly differed in fresh root yielding ability, which ranged from 3.8 to 25.2 T/ha with a mean 12.3 t/ha. In contrast, the improved check (TME 204) yielded 4.8 t/ha. Their dry matter content ranged from 29.4 to 47.7%. The 14 clones were sent to the Kenya Plant Health Inspectorate Services (KEPHIS), Muguga, Kenya for cleaning and virus indexing ready for regional distribution. However, when the clones were evaluated across three sites during the 2009/2010 season, only three (MM 06/0082, MM 06/ 0123 and MM 06/0128) showed tolerance to CBSD. The three new clones would be the major arsenal against CBSD and specifically CBSUV, in all the midaltitude regions of the Great Lakes region. Most importantly, farmers will need to evaluate these new clones under actual field conditions for dual resistance to CMD and CBSD, as well as for utilization characteristics. The best of them will be used in further disease-resistance breeding among national programs in other countries in the Great Lakes region such as Burundi, Rwanda, Kenya, Tanzania and DR Congo.
IITA Subjects
Agrovoc Terms
Regions
Countries
Collections
Related items
Showing items related by title, author, creator and subject.
Nweke, F.

;

Lutete, D.

;

Dixon, A.

;

Ugwu, B.

;

Ajobo, O.

;

Kalombo, N.

;

Bukaka, B.

(

2000

)

The importance of cassava relative to other crops in the cropping system was almost total; cassava was present in 70% of arable fields; maize and beans or peas were each present in 13% of arable fields and all other crops were present in 4%. Cassava was produced mostly for sale, yet it was not as important around market centers as in remote areas because imported rice and wheat products were easily accessible. Cassava land area was not expanding in many of the villages visited because of low-level ...

Ndunguru, J.

;

Legg, J.P.

;

Aveling, T.

;

Thompson, G.

;

Fauquet, Claude M.

(

2005

)

Cassava is infected by numerous geminiviruses in Africa and India that cause devastating losses to poor farmers. We here describe the molecular diversity of seven representative cassava mosaic geminiviruses (CMGs) infecting cassava from multiple locations in Tanzania. We report for the first time the presence of two isolates in East Africa: (EACMCV-[TZ1] and EACMCV-[TZ7]) of the species East African cassava mosaic Cameroon virus, originally described in West Africa. The complete nucleotide sequence ...

Mkamilo, G.S.

;

Ndyetabula, I.L.

;

Jeremiah, S.C.

;

Merumba, S.M.

;

Kibura, J.

;

Karugaba, R.K

;

Chirimi, B.

;

Bagambisa, C.

;

Milala, P.

;

Chuwa, C.

;

Ngendello, T.

;

Legg, J.P.

;

Kanju, E.E.

;

Ntawuruhunga, Pheneas

(

2010

)