Welcome to the International Institute of Tropical Agriculture Research Repository
What would you like to view today?
Thrips (Tripidae; Thysanoptera) infestation on cassava (Manihot esculenta Crantz) at Mvuazi INERA research station, Bas-Congo Province in the Democratic Republic of Congo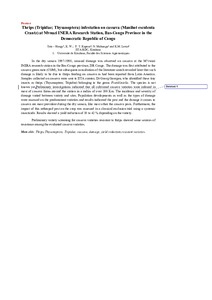 Date
2012-02
Author
Tata-Hangy, K.W.
Mfuti, K.
Tuwizana, M.
Mahungu, N.M.
Lema, K.M.
Target Audience
Scientists
Abstract/Description
In the dry season 1997-1998, unusual damage was observed on cassava at M'vuazi INERA research station (Lat. 5°25'S, Long. 14°54'E, Alt. 465m asl) in the Bas-Congo province, DR Congo (DRC). The damage was first attributed to cassava green mite (CGM), but subsequent observations and literature search revealed later that such damage is likely to be due to thrips feeding on cassava. Thrips on cassava had been reported from Latin America. Samples collected on cassava in DRC were sent to IITA curator, who identified these tiny insects as thrips (Thysanoptera; Tripidae) belonging to the genus Frankliniella. The species is not known yet. Preliminary investigations consisted in learning about the field characteristics of the pest and to understand the conditions that lead to high infestations. They indicated that all cultivated cassava varieties were infested in most of cassava farms around the station in a radius of over 50 Km. The incidence and severity of damage varied between variety and sites. Population developments as well as the types of damage were monthly assessed on the predominant varieties and results indicated the pest and its damage to cassava are most prevalent during the dry season, like most other cassava pests. Furthermore, the impact of this arthropod pest on the crop was assessed in a classical exclusion trial using a systemic insecticide CONFIDOR 050 EC. The results showed a yield reduction of 10 to 64.8% depending on the variety. These preliminary results revealed that thrips could be a potential threat to cassava production and attention needs to be given to its control methods.
IITA Subjects
Agrovoc Terms
Regions
Countries
Collections