Welcome to the International Institute of Tropical Agriculture Research Repository
What would you like to view today?
Expanding the application of cassava value chain technologies through UPoCA project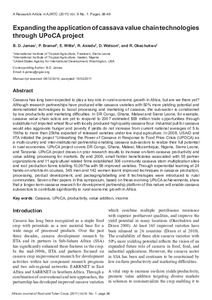 Date
2011
Author
James, B.
Bramel, P.J.
Witte, E.R.
Asiedu, Robert
Watson, D.
Okechukwu, R.U.
Type
Abstract/Description
Cassava has long been expected to play a key role in rural economic growth in Africa, but are we there yet? Although research partnerships have produced elite cassava varieties with 50% more yielding potential and demonstrated technologies to boost processing and marketing of cassava, the sub-sector is constrained by low productivity and marketing difficulties. In DR Congo, Ghana, Malawi and Sierra Leone, for example, cassava value chain actors are yet to respond to 2007 estimated $59 million trade opportunities through substitution of imported wheat flour with locally produced high quality cassava flour. Industrial pull for cassava would also aggravate hunger and poverty if yields do not increase from current national averages of 5 to 19t/ha to more than 25t/ha expected of released varieties under low input agriculture. In 2008, USAID and IITA initiated the project "Unleashing the Power of Cassava in Response to Food Price Crisis (UPOCA) as a multi-country and inter-institutional partnership enabling cassava sub-sectors to realize their full potential in rural economies. UPoCA project covers DR Congo, Ghana, Malawi, Mozambique, Nigeria, Sierra Leone, and Tanzania. UPoCA project draws on prior research results to increase on-farm cassava productivity and value adding processing for markets. By end 2009, small holder beneficiaries associated with 55 partner organizations and 11 agricultural related firms established 306 community cassava stem multiplication sites and root production farms totalling 10,097ha with 58 improved varieties. Through experiential learning at 24 hands-on short-term courses, 345 men and 142 women learnt improved techniques in cassava production, processing, product development, and packaging/labelling and 8 technologies were introduced to rural communities. Seven other papers in this symposium, based on these evolving UPoCA achievements, show that a longer-term cassava research for development partnership platform of this nature will enable cassava sub-sectors to contribute significantly to rural economic growth in Africa.
IITA Subjects
Agrovoc Terms
Countries
Collections