Welcome to the International Institute of Tropical Agriculture Research Repository
What would you like to view today?
Development and evaluation of immunochemical tools for diagnosis and quality control of Helicoverpa armigera nucleopolyhedrovirus (HaNPV)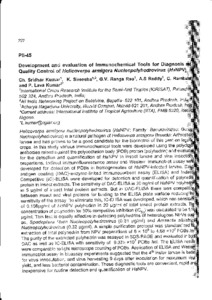 Date
2008
Author
Kumar, C.S.
Sireesha, K.
Rao, G.V.
Reddy, A.S.
Rambabu, C.
Kumar, P.L.
Type
Abstract/Description
Helicoverpa armigera nucleopolyhedrovirus (HaNPV, Family: Baculoviridae; Genus: Nucleopolyhedrovirus) is a natural pathogen of Helicoverpa armigera (Insecta: Arthropoda) larvae and has proven to be a good candidate for the biocontrol of this pest on legume crops. In this study various immunochemical tools were developed using the polyclonal antibodies raised against thepolyocclusion body (POB) protein (polyhedrin) and evaluated for the detection and quantification of HaNPV in insect larvae and viral insecticide prepartions. Indirect immunofluorescence assay and Western immunoblot assay were developed for detection of POBs in homogeneates of HaNPV-infected larvae. Direct antigen coating (DAC)-enzyme-linkedimmunosorbent assay (ELISA) and Indirect Competitive (1C)-ELISA were developed for detection and quantification of polyhedrin protein in insect extracts. The sensitivity of DAC-ELISA is 30 nglml of HaNPV polyhedrin in 5 pglml of insect total protein extracts. But in DAC-ELISA there was competition between insect and viral proteins for binding to the ELISA plate surface reducing the sensitivity ofthe assay. To eliminate this, IC-ELISA was developed, which has sensitivity of 0.156pglml of HaNPV pol yhedrin in 20 pglml of total insect proteinkxtracts. The cbncentration of pdlyhedrin for 50% competitive inhibition (IC5d was calculated to be 1.14 pgl ml. This test is equally effective in detecting polyhedrins of heterologous NPVs such as, Spodoptera litura Nucleopolyhedrovirus (0.3 1 pglml) and Amsacta albistriga Nucleopolyhedrovirus (0.32 pglml). A simple purification protocol was standardized for extraction of total polyhedrin from NPV preparations of 6x10~to 4.68x107 POBS Iml. The purity of the extracted polyhedrin was assayed in SDSPAGE and evaluated in both DAC as well as IC-ELISA with sensitivity of 9.375x107 POBS Iml. The ELISA results were comparable to light microscope counting of POBs. Application of ELISA and Western immunoblot assay in bioassay experiments suggested that the 4th instar larvae is better for virus innoculation, and virus harvesting 9 days after inoculation for maxumum virus yield, and less bacterial contamination. These diagnostic tools are convenient, rapid and inexpensive for routine detection and quantification of HaNPV.
IITA Subjects
Agrovoc Terms
Regions
Collections