Welcome to the International Institute of Tropical Agriculture Research Repository
What would you like to view today?
Largescale screen for artificial selection in maize identifies candidate agronomic loci for domestication and crop improvement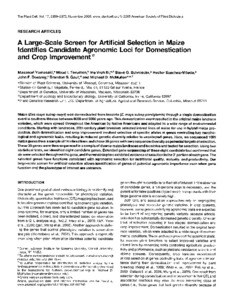 Date
2005
Author
Yamasaki, M.
Tenaillon, M.
Vroh Bi, Irie
Schroeder, S.
Sanchez-Villeda, H.
Doebley, J.F.
Gaut, B.
McMullen, M.
Type
Abstract/Description
Maize (Zea mays subsp mays) was domesticated from teosinte (Z. mays subsp parviglumis) through a single domestication event in southern Mexico between 6000 and 9000 years ago. This domestication event resulted in the original maize landrace varieties, which were spread throughout the Americas by Native Americans and adapted to a wide range of environmental conditions. Starting with landraces, 20th century plant breeders selected inbred lines of maize for use in hybrid maize production. Both domestication and crop improvement involved selection of specific alleles at genes controlling key morphological and agronomic traits, resulting in reduced genetic diversity relative to unselected genes. Here, we sequenced 1095 maize genes from a sample of 14 inbred lines and chose 35 genes with zero sequence diversity as potential targets of selection. These 35 genes were then sequenced in a sample of diverse maize landraces and teosintes and tested for selection. Using two statistical tests, we identified eight candidate genes. Extended gene sequencing of these eight candidate loci confirmed that six were selected throughout the gene, and the remaining two exhibited evidence of selection in the 3′ portion of each gene. The selected genes have functions consistent with agronomic selection for nutritional quality, maturity, and productivity. Our large-scale screen for artificial selection allows identification of genes of potential agronomic importance even when gene function and the phenotype of interest are unknown.
Digital Object Identifier (DOI)
https://dx.doi.org/10.1105/tpc.105.037242
IITA Subjects
Agrovoc Terms
Regions
Countries
Collections