Welcome to the International Institute of Tropical Agriculture Research Repository
What would you like to view today?
Performance of cowpea as influenced by native strain of rhizobia, lime and phosphorus in Samaru, Nigeria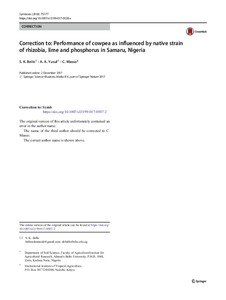 Date
2018-07
Author
Bello, S.K.
Yusuf, A.A.
Masso, C.
Type
Target Audience
Scientists
Abstract/Description
The complimentary effects of a native rhizobia strain (SAMFIX 286), lime and single superphosphate (SSP) as components of ISFM were evaluated on the biomass, nodulation and N2 fixation of cowpea (Vigna unguiculata L.). Lime was applied at the rate of 250 kg (Ca(OH)2) ha−1, while SSP was applied at 30 kg P ha−1. The trial was carried out in a screen house with the treatments arranged in randomized complete block design. Results obtained show that the performance of SAMFIX 286 inoculated plants did not significantly (p < 0.05) differ from that of the un-inoculated treatment. Application of lime significantly increased root dry weight, shoot dry weight, nodule number and dry weight by 42.5%, 35.3%, 65.6% and 50%, respectively. Nodulation was significantly (p < 0.05) increased by SSP. The complimentary effect of lime with SSP significantly increased total shoot N concentration. Similarly, combined inoculation of SAMFIX 286 with lime and SSP increased N concentration by 31.9% and N derived from atmosphere (Ndfa) by 16.3% compared to the un-inoculated treatment. Inoculation of SAMFIX 286 with SSP was also effective on Ndfa by cowpea. It was concluded that lime and SSP were good combination with native rhizobia strain in improving cowpea nodulation and biological N2 fixation.
Digital Object Identifier (DOI)
http://dx.doi.org/10.1007/s13199-017-0507-2
Research Themes
IITA Subjects
Agrovoc Terms
Regions
Countries
Journals
Collections