Welcome to the International Institute of Tropical Agriculture Research Repository
What would you like to view today?
Ontogenetic characteristics and inheritance of resistance to leaf anthracnose in sorghum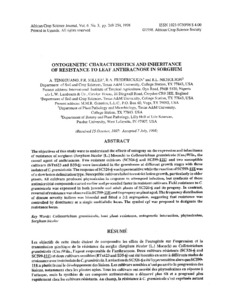 Date
1998
Author
Tenkouano, A.
Miller, F.R.
Fredericksen, R.A.
Nicholson, R.L.
Type
Abstract/Description
The objectives of this study were to understand the effects of ontogeny on the expression and inheritance of resistance of sorghum (Sorghum hieolor [L.] Moench) to Colletotrichum graminicola (Ces.)Wils., the causal agent of anthracnose. Two resistant cuItivars (SC326-fi and SC599-11E) and two susceptible cuItivars (BTx623 and B35-fi) were inoculated in the greenhouse at different growth stages with three isolates ofC. gramillicola. The response ofSC326-fi was hypersensitive while the reaction ofSC599-11E was ofa slow lesion delimitation type. Susceptible cuItivars failed to restrict lesion growth, particularly in older plants. All cultivars produced phytoalexins in response to attempted infection, but synthesis of these antimicrobial compounds started earlier and proceeded faster in resistant cultivars. Field resistance to C. graminieola was expressed in both juvenile and adult plants of SC326-6. and its progeny. In contrast, reversal of resistance was observed in SC599-11E and its progeny as plant aged. The frequency distribution of disease severity indices was bimodal and fitted a 3:1 segregation, suggesting that resistance was controlled by dominance at a single multiallelic locus. The symbol egl was proposed to designate the resistance locus.
IITA Subjects
Agrovoc Terms
Regions
Countries
Collections